Attendance has been a huge focus of the DfE (Department for Education) since a report in 2012 linked attendance to achievement. Research has shown that children with attendance under 95% across Key Stage 2 (age 7-11) are around 3 times less likely to achieve the higher grades at GCSEs. Therefore, as a school one of our goals is to improve attendance as much as possible. Illnesses obviously cannot be helped but if children are absent for as little as one day a month, their attendance will drop to around the 95% mark. We understand that holiday are remarkably cheaper in term-time and that the cultural experiences and family time is invaluable but more than one holiday a year or annual term-time holidays can also cause gaps in learning and subject knowledge.
We share the weekly class attendance statistics on our weekly newsletter to promote attendance further. 
We politely ask that parents should only apply for leave of absence in exceptional circumstances and that medical and dental appointments are made outside of the school day if possible.  Punctuality is equally important, the school playground is open at 8.50am and Registration is at 9.00am.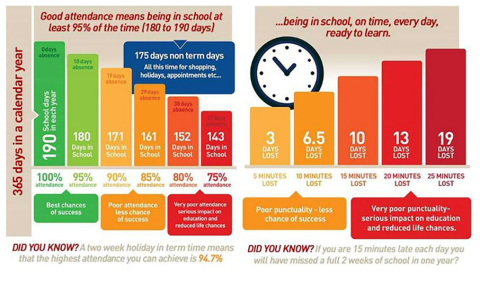 For more information on the link between attendance and achievement, please see the attached document. You will also find our schools policy and procedure for managing attendance and absence.